ERP - Accounts Payable and Receivable
ERP - Accounts Payable and Receivable
Accounts payable and Accounts receivable modules are two important execution modules under finance segment of an ERP system. Financial relationship with vendors who are providing input to the organization in the form of goods and services are maintained in Accounts Payable (AP) module. On the flip side, the financial connection with customers who use output of the organization, are dealt through Accounts receivable (AR) module. Both these modules maintain personal accounts either of debtors or creditors and maintain various sub ledgers such as control account, currency fluctuation accounts etc. as an integral part of General Ledger (GL).
Accounts Payable Module (AP) - This module provides the functionality to enter, monitor, maintain and process for payment of invoices and credit notes, that the organization received from its vendors. The key functionality of this module is as follows:
Immediate registration of incoming invoices
Tracking & Authorization of incoming invoices
Entry of order-based and sundry invoices
Automatic matching of invoices with receipts
Separate procedure for approval of invoices that exceeded the user tolerances
Self-Billing Invoices this is suitable for JIT environment where receipt of goods automatically generates approved invoices in the system which is paid through remittances and supplier need not send any invoice.
Accounts Classification for reconciliation
Master data set up of AP: The initial set up of AP module is critical for its proper functioning, where following parameters are needed to be defined:
Blocking codes for blocking an invoice, Aging analysis periods for outstanding invoices of vendors, tolerated price difference limit for approving invoices (by users and vendors), whether matching with receipt is manual or automatic.
Linking ACP with GL through a schedule of Chart of accounts to which various transactions originating from AP are posted. Some of these accounts are I) control accounts ii) anticipated payment iii) invoice accrual IV) price difference and v) payment difference.
Automatic Matching of Invoices: This is an important functionality of AP module, through which invoices from vendors are automatically matched with purchase orders and receipt. A typical flow chart for automatic matching is as follows: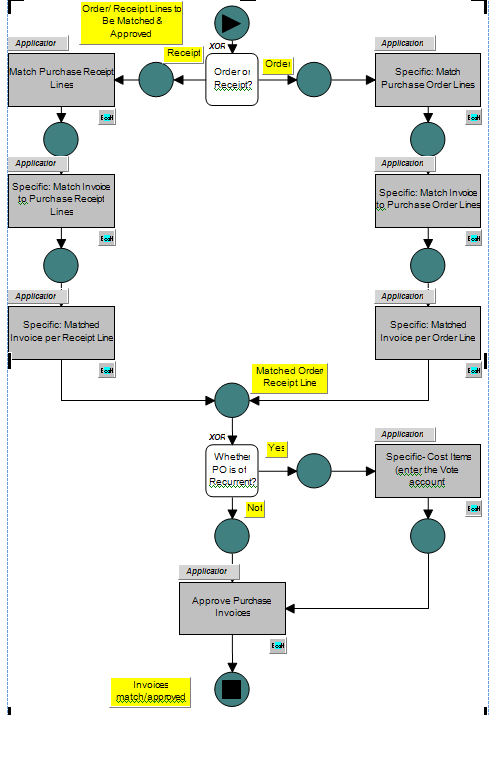 Accounts Receivable Module (AR) - This module helps in tracking all the invoices that is awaiting payment from customers. The key functionalities of ACR are:
Accounts classification for reconciliation & Control.
On-line credit management.
Reminder letters with varying degrees of severity.
Aging Analysis reports for review.
Interest for late payments.
Customer statements.
ACR Master Data set up
Defining chart of accounts for linking to GL such as i) control account ii) discount account iii) advance receipts iv) unallocated receipts.
Terms of Payment parameters such as I) credit period ii) cash discount iii) payment days iv) tolerance for discount.
Free definable problem types to exclude invoices from reminding and direct debits
Flexible periods for aging analysis
Currency/Payment Differences
Default Data - for Tax Calculation level.
Credit Control: An important feature of this module is to monitor invoices overdue for payment and generate reminder letters for sending to customers. In case the invoice is still not paid, increasingly urgent reminders are generated in the system subsequently at a predefined interval. The system also maintains a credit diary, which contains details of all unpaid invoices whether due for payment or not.
This functionality also helps in generating aging analysis report of which a sample is given below:
| | | | | | | |
| --- | --- | --- | --- | --- | --- | --- |
| Invoice | Date | Problem Code | Problem Reference | 0-30 days | 31-60 days | 61-90 days |
| Sept6 96000005 | 09/21/2010 | WPR Wrong Price | Cindy | $ 500.00 | | |
| July 99700043 | 08/23/2010 | CRN Waiting Credit Note | Ray | | $ 350.72 | |
| MAR 52000004 | 07/03/2010 | GRN Goods Returned | Michelle | | | $936.68 |
Related Articles
Authorship/Referencing - About the Author(s)
The article is Written By "Prachi Juneja" and Reviewed By

Management Study Guide Content Team

. MSG Content Team comprises experienced Faculty Member, Professionals and Subject Matter Experts. We are a

ISO 2001:2015 Certified Education Provider

. To Know more, click on

About Us

. The use of this material is free for learning and education purpose. Please reference authorship of content used, including link(s) to ManagementStudyGuide.com and the content page url.
Enterprise Resource Planning - I