ERP - General Ledger and Accounting Management
ERP - General Ledger and Accounting Management
Financial accounting module of an ERP package provides company wide control and integration of financial information. This module provides the ability to centrally track financial accounting data within a framework of multiple companies, languages and currencies.
The General Ledger (GL) module is the heart of finance package of an ERP system. Through integration with logistics, business processes as well as with accounting sub ledgers of other finance modules such as accounts payable, accounts receivable, cash management, GL provides a central pool of accounting data required for finance reporting (including statutory reports) and other purpose. One of the important functions of GL is to real time update of sub ledger, thus eliminating the time consuming reconciliation. GL also provides summarized data for use in planning, control and reporting.
The important components of GL are:
GL master data set up.
GL integration set up with logistics modules.
Period and year closing.
Integration with other modules: Some of the modules, integrated with GL are:
Accounts payable for purchase invoices, credit notes.
Accounts receivable for sales invoice, credit notes and adjustment.
Cash management wherefrom payment details are transferred to GL.
Asset management for transferring depreciation details.
Cost accounting for allocation of cost.
GL master data set up: One of the important processes of GL is setting up chart of Accounts, which is a complete structure of ledger accounts used by the organization. Chart of Accounts can be flexibly structured both at a parent and individual company level. Chart of Account may also be defined separately for statutory purpose as well as well as for the purpose of reporting to management. In some packages, the concept of dimension is used which gives a vertical view on ledger account. Another important parameter of GL is transaction type which identifies different categories of transactions such as journal voucher, sales invoice, cash, and corrections. Other important parameters of GL are i) parent company and company parameters (this will contain accounts for profit and loss, currency fluctuations etc. ii) Periods (Fiscal and Tax), iii) Tax code by countries
GL integration set up with logistics modules: Integration mapping scheme needs to be defined for posting of logistics transactions into finance. Examples of logistics transactions (for different transaction origins) that result in a corresponding financial transaction and for which corresponding chart of accounts are needed to be defined, are given below:
Purchases - i) Making and releasing of a purchase order ii) receiving materials against the purchase order iii) inspection and approvals of the received materials iv) registration of the supplier invoice in logistics.
Sales - i) Making of a sale order ii) releasing of the same to warehousing iii) issuing material against the resultant warehouse order iv) release the issue order to invoicing.
Inter Depot Transfers - i) Making of an inter-depot transfer manually or transfer the same from planning ii) issue materials from the issuing warehouse iii) receiving materials in the receiving warehouse.
Issues for subcontract orders - i) Making of a production order ii) making subcontract purchase order based on the production order iii) initiate inventory issue to the subcontractor, iv) issue of inventory v) receive subcontracted item, vi) completion the production order v) closing the production order.
Cycle Counting - i) Generate cycle count orders ii) approve cycle count orders iii) process cycle count orders.
Period and Year Closing: If a period or year is past its end date, it needed to be closed and the result is to be posted in next period/ year. Before closing any period it is necessary to check the status of the period. Next, auditing, reconciliation, passing of final correction entries and rebuilding of ledger history is carried out.
In the last part of this process, closing of the periods, final closing of the periods and closing the year and and archiving of data is done.
A typical flow diagram of closure of period and year, is given below: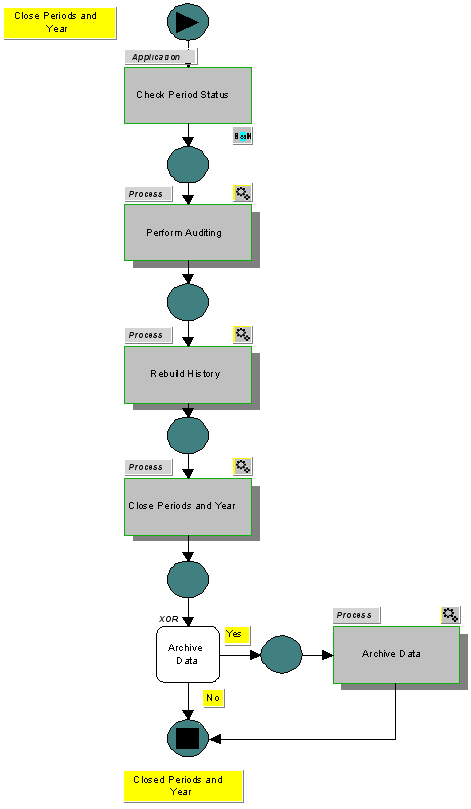 Related Articles
Authorship/Referencing - About the Author(s)
The article is Written By "Prachi Juneja" and Reviewed By

Management Study Guide Content Team

. MSG Content Team comprises experienced Faculty Member, Professionals and Subject Matter Experts. We are a

ISO 2001:2015 Certified Education Provider

. To Know more, click on

About Us

. The use of this material is free for learning and education purpose. Please reference authorship of content used, including link(s) to ManagementStudyGuide.com and the content page url.
Enterprise Resource Planning - I