Outdoor Advertising
Outdoor Advertising
Outdoor advertising communicates the message to the general public through highway billboards, transit posters and so on. Outdoor advertising is a very important form of advertising as the ads are huge and are visible to one and all.
The important part of the advertising is that the message to be delivered should be crisp and to the point. Though images can be used, but they cannot be used in excess. Everything should be presented to the viewer in such a format so that the viewers make up their mind to buy the product or service.
The message to be delivered can be an ad to buy a product, take a trip, vote for a politician, or give to a charity. According to Outdoor Advertising Association of America (OAAA), millions of dollars are being spent on outdoor advertising each year and the figures are expected to grow. This is due to the fact that outdoor traffic keeps on growing every year and hence the target audience for outdoor advertising is ever increasing.
The print and newspaper advertising takes up a huge part of advertising but outdoor advertising is unique in its own way. It is an extremely cost-effective method of advertising. All you need to do is to design a billboard and get it printed as compared to the television advertising where an entire 30 second commercial has to be designed. If the outdoor ads are strategically placed, it can guarantee substantial exposure for very little cost. That is why outdoor advertising is very cost-effective.
Different industries make use of outdoor advertising in their own different way. For example, eating joints and eateries on the highway make use of highway billboards to draw the customer to have a bite and rest a little at their joint. Mac Donalds and Subway are the excellent examples. The automobile and tourism industries make use of the billboards to advertise their products and tourism plans. These are way too successful because of the fact that people on the highway are on the lookout for such information.
Apart from the billboards, there are several other forms in which outdoor advertising can take place. For example, beverage companies make use of sporting events and arenas to showcase their products. For example, Coca Cola was one of the FIFA World Cup sponsors. Other places where you can see outdoor advertising are:
taxicabs
buses
railways
subways and walls on which murals are painted
All these forms of outdoor advertising are very popular and extremely cost effective.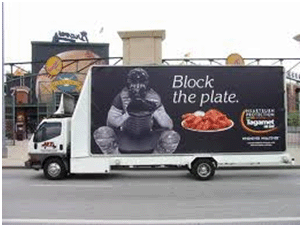 The OAAA has divided the Outdoor Advertising into four major categories: Billboards - These usually account for almost half of the revenue of outdoor advertising. Then there is transit system and mobile advertising which also takes up a major pie of outdoor advertising.
Advertising on public furniture is also used comprehensively these days globally. Last but not the least is alternative advertising. Such advertising can be in the form of Corporate blogging which is an important form of advertising these days.
To conclude, one can say that outdoor advertising, if used wisely is very powerful and cost-effective way of advertising.
Related Articles
Authorship/Referencing - About the Author(s)
The article is Written By "Prachi Juneja" and Reviewed By

Management Study Guide Content Team

. MSG Content Team comprises experienced Faculty Member, Professionals and Subject Matter Experts. We are a

ISO 2001:2015 Certified Education Provider

. To Know more, click on

About Us

. The use of this material is free for learning and education purpose. Please reference authorship of content used, including link(s) to ManagementStudyGuide.com and the content page url.